A fantastic roll-up for the Fair Food Dinner hosted by Southern Harvest at the Bungendore Bowling Club saw the club transformed and Scrumpers Garden serving up more than 80 local fresh food meals. Over $6,000 was raised to help support the work of the Southern Harvest Association.  The Fair Food Dinner was held as part of Fair Food Week, initiated by the Australian Food Sovereignty Alliance.
Find out more about fair food – What's fairness got to do with food?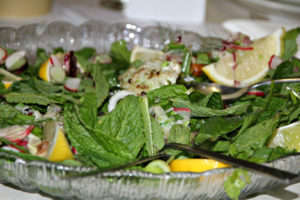 The Fair Food menu, designed and delivered by Scrumpers Garden included sourdough bread rolls donated by Dojo Bread, salt and pepperberry from Bent Shed Produce, olive oils from Homeleigh Grove, flowers from Pendon and candles from Bees R Us.
We started with a selection of cheeses, olives and other delicacies from Tilba Real Dairy, Homeleigh Grove, BlackFoo Farm, Dot's Jams, Bent Shed Produce, Pendon Farm, Caroola Farm, Scrumpers Garden and 2 Nourish.
Entrée was fish cakes on a bed of fresh herbs from Narooma Seafood Direct, Caroola Farm, Old Mill Road, Wynlen House Slow Food Farm, Homeleigh Grove, Pendon Farm and Bent Shed Produce.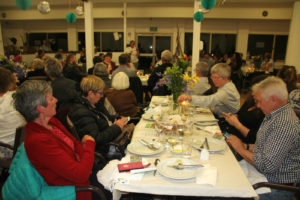 A scrumptious main included roast pork with crackling on a bed of fennel and red onions, rare roast beef with mustard jus and mustard greens and a selection of baked and steamed vegetables and condiments. Produce provided by Caroola Farm, Palarang Partnership Organic Meats, Pendon Farm, Scrumpers Garden, Greenhill Farm, Wynlen House and more.
Topped with desserts from Adams Patisserie and Scumpers Garden.
Local wines, cider and soft drink were supplied by Sapling Yard, Dog Trap Vineyard, Lark Hill Winery, and Sully's at the Old Cheese Factory.
Live auction item donations included a nights accommodation at Tombarra, and overnight accommodation at the Old Stone House in Bungendore.
We were delighted by Bronwyn Richards of Wynlen Farm who has just returned from Italy and talked to us about her trip to Terra Madre in Italy.
Our major sponsor for the evening was Provisions Deli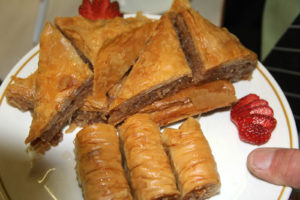 and Grocery in Braidwood, with other local businesses supporting included Bungendore Rural Services, The Leather Shop, Wild Rose Organics, Pendon Farm, Pacawoolly, Lark Hill, Garlicicious Grown, Dojo Bakery, Bungendore Cellars, Caroola Farm, Braidwood Outdoors, Bent Shed Produce, Bees R Us, Dogtrap Wines, Wynlen House  Slow Food Farm and Scrumpers Garden.
What a fantastic evening, with impromptu poems, songs and a fantastic ambiance.