How much of your Christmas shopping can you achieve by purchasing from local independent stores, the markets and farmers markets? Have you thought about the impact that keeping your Christmas shopping local can have in terms of injecting money into our local economies, and having that money stay local? Here are some ideas for celebrating with local flavour this Christmas.
Southern Harvest Farmers Market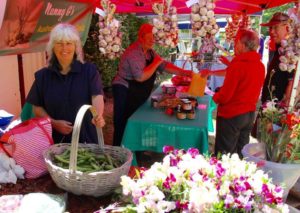 Saturdays 9AM-12PM at the Anglican Church Hall, Butmaroo St, Bungendore
The farmers market is a great place to pick up quality local produce for your festive meals including meats, including smoked ham and smoked bacon, chutneys and other accompaniments, bread, cheeses and more. It's also a great place to start looking for those special treats or local hamper items such as dried native herbs in test-tube holders, a range of sauces and jams, herbal teas, cordials, wine and more.
Caroola Farm at the Southern Harvest Farmers Market THIS SATURDAY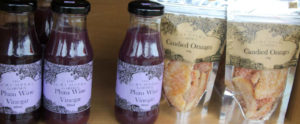 Caroola Farm have closed orders for organic pastured turkey, chicken and duck, but they hope to have extras to bring to the markets, so get in quick! This week Caroola Farm will have lots of fresh produce and a range of home made gourmet items that would be perfect for Chrismas lunch or gourmet hampers, including, garlic braids (great gift for cooks), dried herbs and herbal teas, pickled radishes, pickled scapes, garlic scape pesto, vegetable stock and more.
You can find Caroola Farm at the following locations:
Let Scrumpers Garden do your Christmas Baking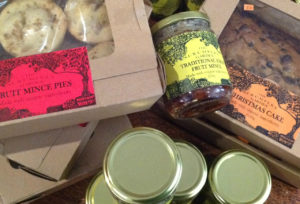 Scrumpers Garden makes it very easy for you with homemade treats ready for your Christmas table or for a hamper. Made in Bungendore from locally sourced, ethical and organic ingredients.
Sourdough Xmas Cakes – 650g $20 or 1200g $40
Traditional Fruit Mice Pies – 6 for $10
Jars of real suet Fruit Mince – 150g $4.50 or 250g $6.50
Candy oranges dipped in dark chocolate – 100g $7.50
Find Scrumpers Garden goodies at the Southern Harvest Farmers Market or contact Ruth via the Scrumpers Garden Facebook page.
Local Wine for Christmas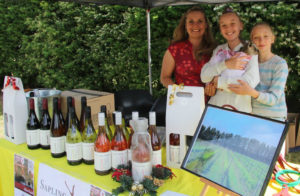 Canberra and surrounding villages have a plethora of wine to suit every taste. We don't think you can go past our favourites, many of which are sold at the Southern Harvest Farmers Market – Sapling Yard, Bungonia Creek, Idyllic Hills, Dog Trap Vineyard and Shaw Vineyard Estate.
One-stop shop for local gourmet treats and everyday foods
Provisions Deli and Grocery is an exciting new way to shop offering healthy, gourmet and whole foods, supporting our local growers and providing good old fashioned customer service! We love their free range ham from The Farm Dojo. Check out Provisions Deli a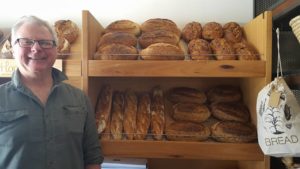 nd Grocery's food hampers in store or on their Facebook page.
P.S. Have you seen Provisions' 12 days of Christmas videos on their Facebook page yet? Just gorgeous…plus very helpful if you are stuck for ideas:)
Homegrown and homemade
Wynlen House Slow Food Farm sells vegetables, seasonal preserves and baked goods every Saturday from a small stall in the Courtyard of Provisions Deli & Grocery, 56 Wallace St Braidwood. Wynlen House has freshly picked new season garlic available including plaits and by the kilo bulbed garlic as well as their usual "feed the family for the week" range of produce. Food is picked and sold within 24 hours.
Made with love using local produce – by Chef Christophe, Le Tres Bon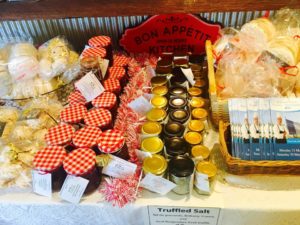 Truffled Salt – local Bungendore fresh truffle & sel de Guérande
This salt is great on bbq steaks, grilled fish, omelette and salad dressing.
Organic rhubarb & vanilla confiture – The rhubarb is from Chef Christophe's garden. This confiture makes a lovely Christmas gift. Can be served with a cheese board, with chacuterie, or generously spread on crepes, croissants.
Meringues – Made using ethically farmed free range egg whites from Long Paddock Eggs in Bungendore. You can make some simply beautiful summer desserts using the meringues as a base, add Chantilly cream and fruit such as strawberries. A mini pavlova!
These extra special gourmet goodies are available for purchase at Le Tres Bon or at the Southern Harvest Farmers Market this Saturday.
Spoil someone special with a French cuisine cooking class

Le Tres Bon cooking classes focus on using seasonal, local produce. The classes are hands-on, yes, participants actually cook! The day finishes with a long table 2 course lunch with matching wine. Be prepared to have fun and make new friends while learning how to cook. View Le Tres Bon's cooking class schedule. Vouchers can be purchased online.
School holiday "Little Toque" (Chef's Hat) Cooking School for children 6 to 12 years of age.
Learn how to make French crêpes, cream and red berries – Thursday January 19 @ 10:30 am – 12:00 pm
Chocolate profiteroles – Thursday January 26 @ 10:30 am – 12:00 pm.
Going Raw this Christmas?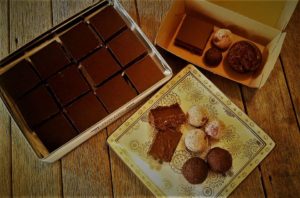 Don't miss out on your little raw goodies over the Silly Season! Little Raw Foodie is now taking Christmas orders for pick up from Farmers & Foodies Markets (Old Bus Depot, Kingston Foreshore) each Friday night right up until 23 December. There are also delivery options for Canberra residents.
Handmade in Canberra, sold on Homegrown Me Marketplace
Its great to see Canberra start-up businesses working together! Homegrown Me Marketplace is a Canberra based online marketplace connecting urban and regional producers with people who love homegrown and homemade produce. Check out Purity handmade skin care products and ednr real foods muesli and toasted nut clusters. Foodies and lovers of local food should have a listen to Homegrown Me's podcast in their Christmas downtime.
Give everyone Christmas day off
Feast at Berrima is due to open on 15th December and with this happy news, Christmas lunch is booking out quickly. View Feast at Berrima's Christmas Menu on their Facebook page.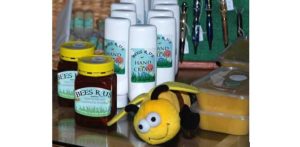 Honey and bee products from Braidwood
Bees R Us produce delicious honey, skincare and pure beeswax candles handmade in Braidwood. Ingredients that don't come from the bees are sourced from organic shops.
Award winning olive oil and olive products make easy gourmet gifts
Homeleigh Grove in Hall, ACT produce a wide range of olive products including Extra Virgin Olive Oils, Infused Olive Oils, Table Olives, Exclusive Vinegars and Olive Oil Skin Care Products. Find their products at Canberra Region Farmers Markets.
Gorgeous local food hampers to suit everyone's taste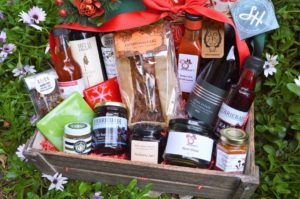 Sharwood Hampers provides fabulous hampers and gift baskets filled with amazing products from the local region of Bungendore and beyond. Sharwood Hapers pride themselves on sourcing quality local products for our individually made hampers and gift baskets. The quality contents of food, wine and gifts for our hampers are selected from local suppliers and producers as we believe in fostering and encouraging local business and suppliers. We strive to deliver the highest quality hampers to local areas across the Southern Highlands. Free delivery to Bungendore, Bywong and Wamboin.
For more inspiration…
Visit our local food business directory.