For the first time ever, the Southern Harvest Association is hosting the Bungendore Region Harvest Festival, a weekend long event celebrating the food, farming and fibre that the area has to offer running from April 28 – April 30.
The Bungendore Harvest Festival was officially launched by Council Representative Peter Harrison and Rose Deo, owner of Mona Farm and Major Sponsor, on Wednesday in Ellendon Street followed by a tour of Mona Farm.
Harrison, in launching the Harvest Festival reflects "I remember attending the launch of the Southern Harvest Farmers Markets at the Bungendore Show just a couple of years back, so I am very pleased to see that this has developed to the point where we are now launching a Harvest Festival here in Bungendore."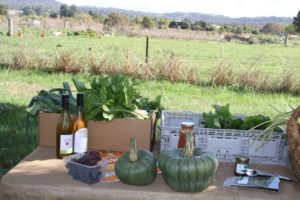 The community aspect of the Harvest Festival appeals to Harrison, he notes "the community aspect, people working together to achieve something greater than they could as individuals. This is a great example of what communities can achieve with energy and focus". The second is the "broader idea of small scale agriculture, where people are a whole lot closer to, a lot more directly involved with the food they produce and consume – slow food if you like."
Major Sponsors, Mona Farm are keen to increase tourism and employment in the region. Mona's General Manager, Suzanne Gearing, and her wedding specialist, Elise Skene, share the same passion, and have developed a range of wedding, corporate and international 'complete experience' packages that focus on the people, climate, history, food and beautiful countryside that make the Queanbeyan/Palerang region unique.
"This area is renowned for its garlic and truffles, and the quality of food grown here is second to none" notes Rose, "so the region has a lot to offer in terms of gourmet food and memory-making holiday experiences that the rest of the world is yet to discover."
When asked why she chose to sponsor the Bungendore Harvest Festival, Rose commented "that's a very easy question to answer – Mona is developing a reputation for exceptional food, and our secret is the quality of raw produce we have available to us. We are thrilled to have the opportunity to sponsor local food and local farmers."
The Harvest Festival puts a focus on the families behind the farms in the southern harvest region, showcasing the integrity and freshness in the growing, breeding and production processes found in Bungendore. Festival Organiser, Penny Kothe of Caroola Farm, says she created the festival in the hope that it would highlight the amazing produce that is grown on Canberra's doorstep, which, in turn, would benefit the local growers and producers and of course other businesses serving tourism.
A local approach to food systems is a step back in time, when every backyard had chooks, grew veggies and slaughtered their own meat. "Obviously, if you have the time, growing your own chickens for eggs or meat, having a vegetable garden and perhaps a few fruit trees may be the best way to secure at least some of your own future food, but for others we must depend on farmers around us," says Colin McLean President of the Southern Harvest Association.
Festival-goers will be treated to demonstrations, stalls, cooking, tastings, and tours of the Bungendore area. The Harvest Festival will also give food fanatics the opportunity to go behind the scenes and learn how to grow fresh produce, where to grow it, how to prepare it and, of course, how to eat it.
Kicking off on Friday 28 April, guests will be treated to meals that showcase locally sourced food and beverages. Saturday will see the streets of Bungendore come alive with food and wine stalls, talks and cooking demonstrations, chestnut roasting, oil infusing and garlic tasting amongst other activities. On Sunday, festival goers can tour the local farms and wineries, as well as participate in chestnut picking, Devonshire teas and garden tours.
There is also plenty of fun to be had by the kids, with interactive food demonstrations face paintings and a harvest themed dachshund parade. Kids are welcome to come dressed in their finest harvest festival costumes – as farmers, their favourite fruit and vegetable or another creative idea that takes their fancy.
"The weekend will be an experience in food and wine," says Kothe. "Attendees will get the chance to learn the craft of food and wine, meet the people behind the produce, and immerse themselves in the Bungendore community.'
Says Harrison "QPRC is right behind this Festival. It is an important element of our economic development and regional tourism strategy and we will continue to use the resources we have available to encourage our city cousins to come out to Bungendore later this month and enjoy the fruits of the local community's labour"
The full program for the Bungendore Harvest Festival, 28-30 April, is available online at www.southernharvest.org.au and includes a range of activities, from garlic tasting through to face painting, talks and demonstrations. Bring your friends, bring your family and experience a weekend of celebration.