The Bungendore Harvest Festival is shaping up to be a fantastic weekend. Local businesses, farms, producers and more will be featured with events running from Friday 28 April through to Sunday 30 April in Bungendore and surrounds.
"This is a fantastic opportunity for Bungendore to showcase its local food and farming heritage and establish a significant annual regional event" says Penny Kothe of the Bungendore Harvest Festival Organising Committee.
The major sponsor is Mona Farm and Historic Home with gold sponsors being Bungendore Community Bank, Bungendore Chamber of Commerce and Industry, QPRC, The Carrington, silver sponsors include Caroola Farm, The District Bulletin, Agency9, and bronze sponsorship support from Sapling Yard, Le Tres Bon, Silver Wattle Quaker Centre, Tweenhills Chestnuts and Slow Food Canberra and Capital Region and Executive Events Solutions.
Information on activities and events  for the Harvest Festival  are at www.southernharvest.org.au and are updated as they become available, or find out more on Facebook at: www.facebook.com/BungendoreHarvestFestival.
Many local
businesses have already indicated their participation with activities including a Shared Butchers Board at The George (available all weekend), Le Tres Bon Harvest Dinner showcasing local produce on Saturday 29th and Local Tasting Plate at the Carrington throughout the weekend. There will be Chestnut Roasting, talks on Garlic, Compost, Bee-keeping and Chickens. Demonstrations of a Chicken Salad Bar, making Passata, Preserves and Fermented Vegetables. The Bungendore Choir and Braidwood Dance Studie will be performing along with having Childrens Face-Painting and Animal Balloons.
There will be a
range of stalls along Ellendon Street on
Saturday 29 April from 10am to 5pm including Tweenhills Chestnuts, Millpost Merino, Bywong Garlic, Slow Food Canberra and Capital Region, Dots Jams, Caroola Farm, Dewsburys Free Range Pork, Sapling Yard, SCPA-South East Producers, Adams Patisserie, Contentious Character, Sharwood Hampers and Good Life Food. Our existing local eateries and other businesses will be open during the day too.
Sunday activities include an open garden at The Old Stone House in Bungendore with a Devonshire Tea, the Bungendore Community Garden, Pick Your Own Chestnuts at Tweenhills Chestnuts, Farm tours of Wynlen House in Braidwood, Brightside Farm, Lark Hill and more to come. Details of open gardens , farms and tours are being updated as they are announced.
The formal launch of the Bungendore Harvest Festival and the announcement of the Harvest Prince and Princess will be on Wednesay 12 April in Ellendon Street. Entrants are invited for the Harvest Prince and Princess to dress in your best harvest theme, are you a pumpkin, a carrot, a salad, a farmer or something more? More details to come soon.
If you are a local business and have yet to let us know how you would like to participate, please contact us on hello@southernharvest.org.au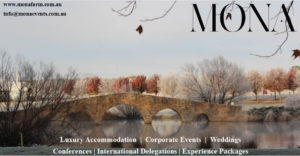 Our major sponsor, Mona Farm is a gracious luxury estate located in rural Braidwood. It has a rich history that embraces the arrival of European immigrants to Australia in the 1820's and the immigration of Chinese to Australia seeking gold in the late 1850's. Currently a working equestrian farm, it offers luxury accommodation, award winning grounds, and conference or event capabilities for up to 150 people. Mona provides a complete experience, with five star service, for anyone who is looking for somewhere extraordinary for a wedding, corporate event or private retreat.
Southern Harvest Association is responsible for bringing the Bungendore Harvest Festival to fruition.  Southern Harvest is a business and community led organisation focused on growing local and regional food communities in the ACT and South East NSW through education, market opportunities, networking and advocacy.