We might technically be in autumn, but the full autumnal harvest is still a little ahead of us. There are the early apples giving savour to salads and sweets, and we're in full tomato, zucchini and eggplant glut time.
This is a little lunch that can have as many or as few components as you fancy.
All ingredients or components can be sourced from the Southern Harvest Farmer's Markets at Bungendore, every Saturday morning 9am – 12pm, at the Anglican Church Hall, Butmaroo St, Bungendore.
Bruschetta on toasted warrigal green rolls
Note: This can only be made when the tomatoes are at their richest, ripest peak. This is not a midwinter or even early spring dish!
Bruschetta
This recipe adapted from Jill Dupleix's "I Hate To Cook", 1991, Mandarin Books
2 cloves of garlic
3 ripe eating tomatoes
½ cup fresh basil leaves (you can substitute other leafy herbs such as parsley, oregano, or even coriander)
1 cup local olive oil
Salt and pepper (this is excellent with native peppersalt)
Toasted bread or rolls (try sourdough as well)
Crush garlic, slice tomatoes generously, tear basil leaves.
Mix with the olive oil, salt, and pepper, and leave at room temperature for a few hours.
When you are ready to eat, slice bread and brush the cut side with the flavoured oil from the tomato mix.
Grill bread quickly on both sides, brushing each side with oil.
Top with the tomatoes and basil leaves.
Serve.
Warrigal greens bread or rolls
Makes 1 small loaf or about 6-8 small bread rolls
500g strong white bread flour
60g warrigal greens on the stem, seed cases removed
10g fresh yeast, or 5g dried yeast
½ tsp salt
Tepid water to make up 300ml of liquid when mixed with the blended warrigal greens
Place the warrigal greens in a saucepan and add water until greens are half covered.
Boil the warrigal greens for about 3 minutes, using a spoon to push leaves and stems under the water.
Drain the greens and rinse briefly with cold water.  Note: you can't re-use the warrigal green water in the bread – it must be discarded due to the oxalites that have just been removed.
Add greens to a food processor or blender and add a few tablespoons of water.
Blend the greens to a liquid. Try to ensure there are no chunky bits at all.
Add water to the greens to make up 300ml liquid.
Place yeast in a small bowl.
Add about a tablespoon of the warm liquid to the yeast, and stir/cream until the fresh or dried yeast is liquid.
Add the flour to a bowl with the salt.
Pour on the yeast, then add the warrigal green liquid.
Mix until you have a dough (I use a food processor with a dough hook, but you can use your hands of course!).
Knead until the dough is soft and satiny and a rich green colour – about 6mins in the food processor, or about 12mins by hand.
Cover dough with a teatowel and let rise in a warm place for 1 – 1.5 hours.
After this time, pull the dough out and knead gently for a couple of minutes until the air has been removed.
Either shape the bread into a loaf as per your own preference, or shape into bread rolls and place on trays.
Cover and let rise again for an hour (for a loaf) or 20mins (for rolls).
During this time, pre-heat the oven to about 205C-210C.
When the dough has proven for the second time, place straight in the oven and bake for 30mins (loaf) or 20mins (rolls). If baking a loaf, drop the temperature to 180C for the last 10mins.
Remove from the oven and let cool before removing from bread tins or baking trays.
Suggested accompaniments:
Local olives
A rich tangy cheese
Locally-made salami, ham, or pruscuitto
Boiled eggs
Slices of an early apple
A glass of cold local white or rose wine
About the Author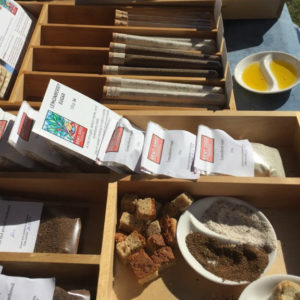 Bent Shed Produce specialises in the different, unusual, and really local. Have you tried the native Australian mountain pepperberry? It's hotter than black pepper, with a fabulous herby zing. Or what about roasted and ground wattleseed, giving your daily coffee a rich coffee, chocolate and hazelnut flavour? Lemon myrtle is "more lemony than lemon", without the additional liquid, while aniseed myrtle brings a lovely liquorice flavour to sweet and savoury dishes. Then there's warrigal greens – the Australian native spinach. It kept Captain Cook's crew from dying of scurvy while they were wandering around Botany Bay. Use like English spinach but without turning into a sort of green sludge. And then there's our rainbow-shelled eggs from our flocks of heritage pure-breed and farmyard-cross poultry (chicken, ducks, and guinea fowl). Bent Shed Produce raise their own birds, and occasionally can provide live poultry for those looking to bring the rare and unusual into their own yards. The next step is into meat production, so you can taste chicken the way your ancestors did; as a rare treat, with crispy skin and amazing flavour. Come and try something new with Bent Shed Produce!