Inaugural ACT Permaculture Festival to Raise the Profile of Permaculture and Sustainable Living in the ACT and Southeast NSW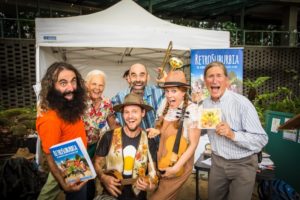 Those interested in living more sustainably will have a unique opportunity to learn from the best sustainable living groups in the Capital Region at the free inaugural ACT Permaculture Festival. The event, which will be held on 15 April 2018 at Canberra City Farm in Fyshwick, will be opened by the ACT Greens Minister for Climate Change and Sustainability, Shane Rattenbury. Costa Georgiadis will be there too and permaculture's co-originator, David Holmgren, will be conducting the Canberra launch of his new book and will also be available on the day for book signings.
With a theme of 'connectivity', the 2018 ACT Permaculture Festival will bring together sustainability, organic gardening, food-producing, and health and wellbeing groups to share their stories and inspiration with the public. "There's no other event in the Capital Region like this one, where Canberrans can learn directly from a range of experienced sustainable-living and permaculture groups," Minister Rattenbury said.
This year's festival will launch the 14th Australasian Permaculture Convergence, which will be held over four days at The Greenhills Centre in Cotter and will be followed by tours, workshops and courses across South East NSW. "It's 40 years since Permaculture One was first published and the Permaculture Association was founded by environmental activist Terry White. I think this is a great way to kick off the celebrations," said David Holmgren.
This is an exciting event that will celebrate the joys and benefits of growing and eating your own and locally-produced food. With a variety of produce and information stalls, workshops, demonstrations, music and kids activities, there'll be something for everyone at the festival.
More information about the 2018 ACT Permaculture Festival can be found at https://southernharvest.org.au/permaculture-festival/ or on social media:
– Facebook =
https://www.facebook.com/ACTPermacultureFestival/
– Twitter = @ACTPermaculture
– Instagram = @actpermaculturefestival
About the festival
The 2018 ACT Permaculture Festival is being run by the Southern Harvest Association and Canberra City Farm. It is a not for profit event. Any profits generated from the event will be reinvested in developing sustainable living, farming resources, and educational programs throughout the ACT and surrounds.