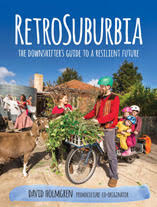 RetroSuburbia: a permaculture plan for Australia's residential heartlands.
Keynote to 14th Australasian Permaculture Convergence
RetroSuburbia is more than a book, it is a strategy to build on the diverse legacies, projects and people applying permaculture ethics and principles across the diverse residential landscapes in Australia and New Zealand where a combination of detached dwellings, productive private space and public land can allow residents to provide for household needs, improve resilience to multiple emergent threats, nurture community cohesion and kick start the local economy.
David Holmgren builds on lessons from four decades of permaculture design, teaching, practise and activism to explain the factors that could allow an order of magnitude larger change in our residential heartlands to;
• Replicate and adapt existing models of retrosuburban household systems
• Contribute to the next scale of self organisation; local community economy and self governance
• Support and defend gains against likely pushback by centralised systems that stand to lose power and market share.
In a world where environmental and social justice activists are overwhelmed by the attempts to fight one bushfire after another, David Holmgren shows how good working models powered by permaculture ethics and principles have the potential to create a "new normal" at the household, street and neighbourhood level that will be critical for a benign and resilient future.