We're super excited to welcome our newest producer member, Fiona Buining from Ainslie Urban Farm. Fiona has been in the small scale and urban farming scene in Canberra for yonks, and has worn heaps of different hats over the years -teacher, activist, small business owner and farmer to name a few. She's passionate about plants, growing food and the power of gardening to tackle some of the biggest problems facing us as humans. Her beautiful micro-greens will be featuring in our multi-farm produce boxes.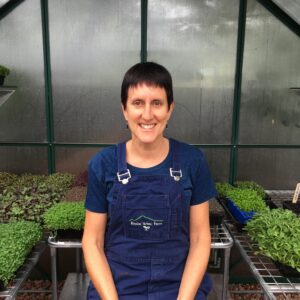 What is Ainslie Urban Farm and when was it born?
Ainslie Urban Farm is the name of my business in Ainslie, Canberra. We have a small, double brick heritage home on a 1000m2 block. We moved here in 2008 and developed the property following permaculture principles and to maximise food growing. Our children started calling it the farm so when I started a business this was the natural name for it. I've been growing microgreens since 2013 when I started growing them as a fundraiser for the Merici College garden in the school's greenhouse. In 2016 the enterprise outgrew the school so we built a greenhouse in the backyard and moved it to home. We added a second greenhouse in 2019.
What are your main products?
I specialise in growing microgreens for restaurants, cafes, Ainslie IGA, Organic Energy and Southern Harvest. I grow over 20 varieties. We grow a large amount of food for ourselves. There are over 50 fruit trees, nuts, berries, vegetables, chickens, bees and working rabbits on our block. We provide our own eggs and honey and harvest fresh fruit from November until June and fresh vegetables all year round.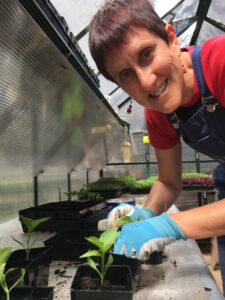 Why do you do what you do?
I've always loved growing plants – even as a child. As an adult I find growing plants is the most positive response to the environmental problems facing us. Through growing plants we can regenerate the soil, capture carbon and reduce our environmental footprint.
What are some of the differences between urban farming and 'traditional' farming in terms of marketing, crop selection and climate?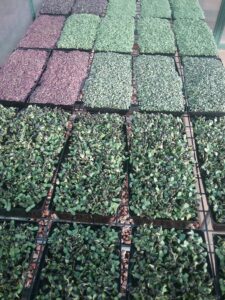 Our main limitation is space. I'd love the space to grow more food in our backyard. Maybe we will have to expand onto the nature strip or next door! A traditional farm would have more space. I am able to grow microgreens in my two greenhouses which fit in our backyard. I like the idea of the low carbon footprint that can be achieved by growing food in urban areas where the majority of the population live. With limited space 3 factors need to be considered in crop selection: the amount of space required for the crop; the length of time for the crop to reach maturity; and the sale price of the item. Curtis Stone evaluates these factors to generate a CVR or crop value rating. For example, in urban farming when you have limited space you may not want to grow corn as it takes up a lot of space and has a low selling price. Leafy greens grow quickly, do not take up much space and sell for a good price. In terms of marketing I really don't know if there is a difference. I have used direct marketing to generate customers and now word of mouth really helps. I do everything – growing, selling, delivering and the book work. I'm not sure climate is very different, however, maybe some urban areas are less prone to extremes in weather. An advantage or urban areas is that if town water is available there are less issues with a reliable water supply. The use of treated water reduces the risk of contamination of products from water during watering or washing of produce.
What are your hopes for the future of food and agriculture?
I'd like to see all the "ides" banned and all our food grown regeneratively so that all people have access to fresh, local nutrient dense food. I was awarded a Churchill Fellowship last year and my vision is to help create urban farm incubators that provide vocational training and mentoring for aspiring food growers. Imagine if we had urban farm hubs in every town and city training people, providing awesome food and mentoring people to run food based enterprises?