We are now in the last month of winter and on certain days you can definitely feel the first little flutterings of spring in the blustery wind. I can hear Lyrebirds singing their little hearts out through the bathroom window, there was a fly buzzing around in the house the other morning (I ALWAYS forget about flies!) and it might be my imagination but I think the garlic might be just a little taller and a little greener. It's certainly felt like a very cold and miserable winter this year despite what the experts say about the *actual* temperatures, and August is the point in the season where the wish for spring becomes very real (despite all the winter jobs still left to do). Before we say goodbye to winter, we thought we'd share this little Q & A we recently did with SHA member AWOL (Another Way of Living) about their Winter Solstice Gathering. It highlights the value of embracing winter within a cyclical and seasonal way of living.
What is AWOL?
AWOL – Another Way of Living is the term that we've put around what we do here… or what we try not to do; we try to be 'absent without leave' from the capitalist system. In some ways, we're not doing anything special, just reconnecting with older ways and really taking part in what we need to survive and thrive. In the culture we are all a part of today, what we do seems rather radical. We grow food, forage for mushrooms, swap with our community and glean the seconds from friends farms to preserve and ferment. We salvage materials from waste streams to build and renovate our homes and the homes of the animals and much of the infrastructure here. We try our best to listen to this land, and to care for her as best as we can, moving towards being in a reciprocal relationship as we all once knew.
What does the Winter Solstice mean to you?
It is the time of darkness, of stillness, the time for deep reflection and questioning. It's like holding the breath out, emptying our lungs before we breathe in again, each part of the cycle as important as the next…. Try breathing in continuously, or try breathing in and out without the brief pause that is naturally there… We never truly expel all the air from our lungs, just like the trees, the lizards, the bats, the soil microbes are never truly dormant, just waiting, resting, readying for the next part of the cycle, the breath in, the Springtime…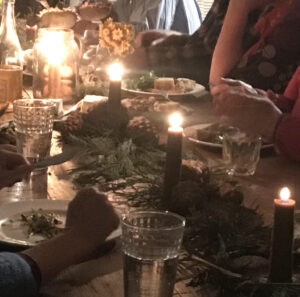 Why did you decide to run solstice/equinox gatherings?
To us, hosting a gathering at each Solstice and Equinox is about reconnecting. Finding our way back to old traditions of living in relationship with the world around us, together. It feels incredibly important to us to take the time to celebrate with community, sharing the food of that particular season, the stories, the challenges, whatever is called for at the time. It feels like a huge step towards reconnecting to the cycles that are around us, the cycles that are in all of us.
How long have you been running solstice/equinox gatherings?
The recent WInter Solstice celebration was our 4th one, so it's been three years. I was so pleased to have made loads of candles this year, the candlelit room was really special.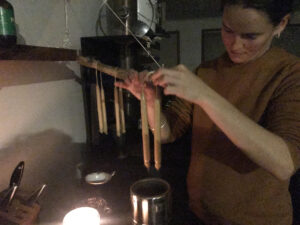 What are the elements of a gathering?
Each one is a little different, made different by the people who engage with the celebration 🙂 and of course by the different seasons. The food is always a strong element, the gatherings are potlucks (bring a plate to share), so you never know what will happen, but our experience is that the food is always delightfully celebrating the season… 
How have the gatherings changed or gained momentum over the years?
Slowly, slowly, people have been ready to bring their own gifts to share at the celebration, dance, poetry, wreath making … This is our hope, that it will slowly become more of a truly collective celebration. There seems to be a really strong sense of community forming at these gatherings, the most marvellous thing!
Can the Southern Harvest community get involved with seasonal gatherings at AWOL?
Absolutely! Get in touch! Sometimes we put in on the facebook page (https://www.facebook.com/AWOLanotherwayofliving), but recently, with COVID, we have not been doing so… So, please get in touch!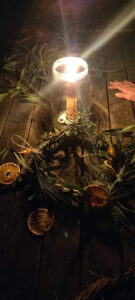 What are some rituals that people could do in their own homes to acknowledge solstice and equinox?
A great one that I learnt this year (though of course, it just makes sense!) is making evergreen wreaths at Winter Solstice – remembering the undying nature of the world around us, Winter Solstice is also a great time to light a candle and look into our shadow selves, letting go of what is ready to be let go of and breathing in the new elements which will take that space… Ever changing, as with all things.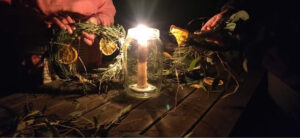 AWOL is a multi-generational community of folks in Wamboin who are trying to relearn how to be in harmony with natural systems. They have created a permaculture demonstration site and run tours, facilitate courses and hold seasonal celebrations. To connect with AWOL follow them on Facebook or email Sam at earthchildsam@gmail.com.