First and third Saturdays of the month
10.00am - 10.30am
at the Southern Harvest Farmers Market
Bungendore
Do you have a few too many apples, artichokes or apricots? Maybe you like to jam, preserve, ferment or bake a bit more than you can eat?
At the home produce swap you can exchange a bit of your extra for a bit of someone else's.
That's the magic of the home produce swap. It is that simple – no money, no bookings – just a chance to meet people from Bungendore and nearby, be nice and take home something different.
It happens from 10am to 10.30am on the first and third Saturdays of the month at the Southern Harvest Farmers Market in Bungendore. Look for the Produce Swap blackboard.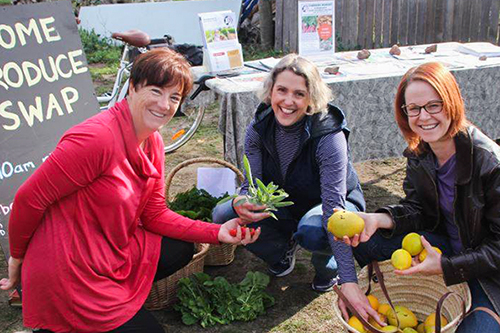 At the food swap we are proud of our fine home produce coming from the gardens and kitchens of Palerang. We love to see fresh or dried fruit and vegetables, nuts and seeds, honey, cakes, biscuits, bread, jams, preserves, chutneys, seedlings and vegie seeds, eggs (with egg stamp), cultivated mushrooms, fertilised eggs (labelled not for human consumption), cordials, verjuice and more.
The fine print
We are keen to keep our swappers happy and healthy so there are a few things that can't come to the swap:
live animals (but you could bring photos)
sprouts
royal jelly
foraged mushrooms
alcohol
meat
fish
seafood
dairy
cooked foods that need to be kept warm or cool
If you cook for the swap, bring along the recipe so you can tell swappers about the ingredients. Also, there are some allergens that could be in your cooking that you must tell people about: peanuts, tree nuts, milk, eggs, sesame seeds, fish and shellfish, soy and wheat.
Good food happens at the swap. See you there.